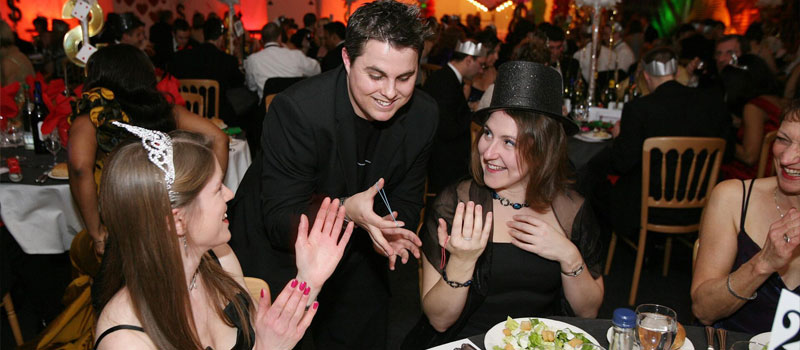 Looking for a Magician in Buckingham?
Looking for a Buckingham magician who'll provide a unique and personalised experience guests won't forget in a hurry? Richard Young is an award-winning magician who specialises in stunning close-up magic. He is a member of the Inner Magic Circle and has appeared on TV specials such as Penn & Teller: Fool Us.
Magic, Laughter, and Ice-Breaking Repartee
Need an icebreaker for your party or corporate event? Richard Young is superb when working with small groups of guests. Whether they're sat at tables or standing with drinks, he can be relied upon to have everyone laughing, talking, and sharing their disbelief in a few minutes. Offer your guests a surprise performer who will stay in then minds long after the event is finished.
What Kind of Magic Can You Expect?
It's the sort of magic that makes you gasp as the impossible occurs right before your eyes. Richard Young works with all kinds of small objects such as coins, napkins, bank notes and glasses. He makes them levitate, disappear, and then re-appear in the strangest places, all just inches from where you're sitting.
---
CHECK AVAILABILITY FOR YOUR EVENT NOW!
FILL OUT THE ENQUIRY FORM HERE
Can't wait for an email reply?
Call Richard Young now: 07944 484 791
---
An Adaptable Performer
Richard Young's close-up magic is in demand for parties, weddings, university balls, and corporate events. He's a consummate performer who can adapt to any audience, no matter whether they're 9 or 90. Simply tell him when you'd like him to perform, and he'll use his professional skills to amaze and delight everyone he comes in contact with.
Top-Quality Magician for Hire in Buckingham
Would you like to talk to Richard Young about how you would like to incorporate his magic into your event? He'll be more than happy to work with you. The creation of a stunning event for your guests is what we're all about, so we'll do all we can to ensure they have the best time possible. Having a close-up magician like Richard at your event means you're guaranteed top-quality, all-round entertainment, and professional magic no one will forget.