A Magician for Parties in High Wycombe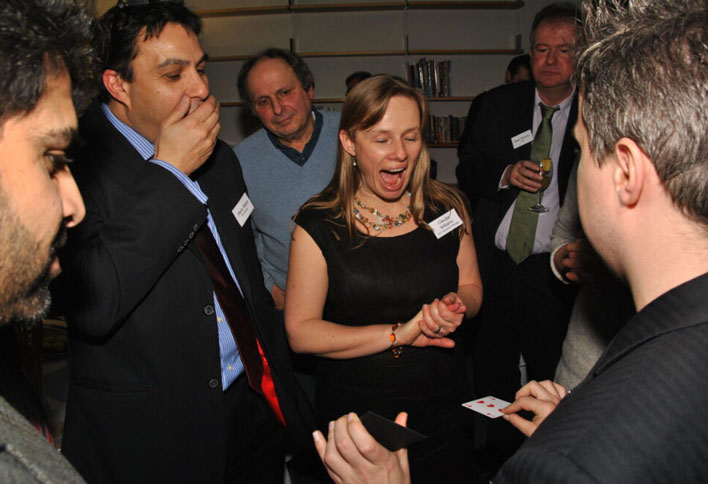 Magician in High Wycombe Showreel
You are obviously looking for a High Wycombe Magician and you have come to the right place. Magic Circle Magician Richard Young has been performing magic in High Wycombe on a professional basis since 2007. If you are searching for exciting, unique and memorable entertainment to wow your guests with then Richard Young is the perfect choice. Richard is a full time professional Close-Up and Table Magician who specialises in incredible and memorable informal walk around entertainment unexpected by your guests.
CHECK PRICE AND AVAILABILITY HERE
Unexpected Close-Up Magician
It is always best if your guests do not know that the High Wycombe magician Richard Young is going to be at your event, this ensures their reactions to what he does are at their best and his impact creates not only moments of astonishment at the time of her performance but also (and most importantly) a lasting impression of your event. You do not hire a magician to find the Six of Diamonds, you hire a magician to change the atmosphere of the room, Richard Young promises you he will do just that at your upcoming event. He has over 10 years experience doing just that!
Where in High Wycombe?
Richard Young is regularly seen at events at Bradenham Manor, as well as the finest weddings at Missenden Abbey, Taplow House Hotel and Hughenden Manor in High Wycombe. He has spent over 10 years building up a superb reputation as the 'go to guy' for any form of amazing walk around entertainment in the High Wycombe area.
Type of Event?
Whether you are planning a corporate dinner, birthday party or wedding, Richard is able to offer a tailor made service to ensure up to 100 of your guests have a personal up close experience with magic and mind reading at some point during the event.
Please take a look at the video page to see High Wycombe Magician Richard Young's video showreel and a high profile television appearance with Jonathan Ross. There is also a testimonial page which has many happy customers of the High Wycombe magician Richard Young saying how much they enjoyed his performance at their wedding, private party or corporate event.
Free No Obligation Quotation Now
Want a quote? Go here and fill in the enquiry form or for an immediate response call: 07944484791. All quotes are free with no obligation to book.