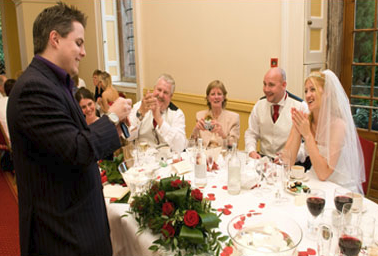 CONGRATULATIONS ON YOUR ENGAGEMENT!
You have booked your venue, chosen your photographer, sent out the invites and now it's time to decide how you will keep your guests entertained during the big day?
HOW ABOUT SOMETHING THEY WILL NOT EXPECT, SOMETHING THAT WILL AMAZE THEM AND MOST IMPORTANTLY SOMETHING THEY WILL REMEMBER WHEN YOU GET BACK FROM YOUR HONEYMOON….?
HOW ABOUT A WEDDING MAGICIAN!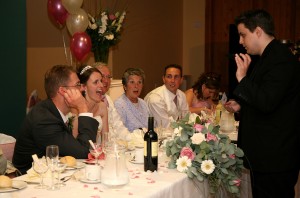 I have performed at over 60 weddings a year, every year since 2011, from the biggest and most spectacular weddings to the smallest and most intimate. No matter what your wedding size, schedule, or format you can be assured that a wedding magician can fit in and work for your guests of all ages, nationalities and cultures. A wedding magician is pretty much the only form of entertainment you can book that will connect with every single guest in attendance. A wedding magician creates a wonderful atmosphere of fun, laughter and excitement as I move from one group to another. It is the perfect ice breaker for your guests who do not know each other.
There are a three brilliant opportunities to surprise your guests with a wedding magician. The first is during the drinks reception whilst your photos are being taken, the second is at the tables during the wedding breakfast and the third is as some additional entertainment for the evening reception. They all work brilliantly.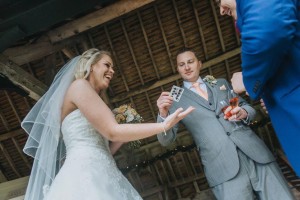 I always suggest that you keep my performance as your wedding magician a secret and just allow me to mix with your guests unannounced. This always creates the biggest reactions as your guests are not expecting anything. I will also help to get them interacting with each other, as the magic will cause immense speculation regarding how the illusions could have possibly been achieved and who I am.
Every single wedding is different and with my experience I can advise you on when is best to bring me in for your specific day. Alternatively, perhaps you have an idea yourself regarding when you would like to bring me in to make an impact with your friends and family. I am very open to different ideas and suggestions.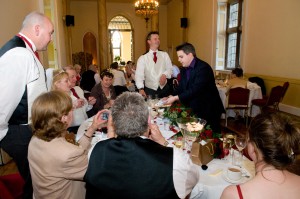 With regards to my prices as a wedding magician, the really good news is I offer various packages which cover every single type of wedding, from a large wedding with over 200 guests, through to a small intimate wedding with 10 or less close friends and relatives. I believe I have a package to suit every wedding size and (most importantly) budget.
If you would like to meet me in person to see if I am the right person to entertain your friends and family on your big day you can do so because I often demonstrate my services at wedding fayres 3 – 4 times a season throughout the county. Please send me an email, if you would like to know which fayres I will be appearing at over the next couple of months. If you pop along to meet me at a wedding fayre you will see the magic I will perform at your wedding in person and also be able to have a chat with me about the specific requirements for your wedding day.