Over the last few years the amount of work I have done as a Corporate Events Magician has really increased. It cannot be described as a single service which I have offered to corporations, in fact being flexible and being able to come up with new and exciting ideas that match a clients needs has been a big part of the fun. Below are a few of the different options that I offer.
ENTERTAINING YOUR IMPORTANT CLIENTS AT CORPORATE EVENTS
If you really want to impress and entertain the people who matter to your business, my services are guaranteed to do the trick. It will create a talking point and also reflect well on your company that you have laid on something really special for them. I can entertain your clients in practically any setting from a drinks reception or around the tables during a meal. As a corporate events magician, I have performed on a boat trip down the Thames and even in the boardroom to end an important meeting with a bit of fun.
TRADE SHOW MAGICIAN
Trade shows are expensive for any business, and no matter how good the stand looks, getting the delegates in attendance to come onto it and see your products and listen to your company's message is not easy. Hiring me to bring them onto the stand with my form of entertainment is guaranteed to stop people passing you by and keep your sales team busy with new clients all day long. I can also create a crowd around your stand with parts of my stage show and incorporate your company's message into the presentation.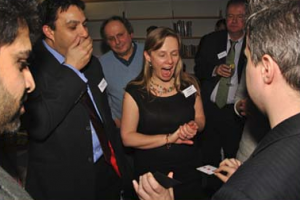 A GIFT FOR YOUR CLIENTS
A really great idea if you are looking to make an event magic themed or would like to offer a small gift to your clients is to give away small magic tricks. I can offer many different options. For example I can supply a fantastic self working trick called Predictalopes custom branded with your company logo or message that you can present to your clients as a gift. This trick is an effective marketing tool for your message and also easy to do. Your clients will be able to take the magic away with them to show their Richard Young clients or friends and family all compliments of your company.
Providing there is adequate notice, these tricks are available at just £2.40 each. Custom branded with your logo or message.
PRODUCT LAUNCHES
If you are looking to launch a product in a spectacular and unique way consider using modern illusion technology to take this to a whole new visual level. Combining my knowledge of stage illusion and a close association with world renowned illusion designer Mark Parker gives your company access to a powerful creative team that will take your product or brand message on a creative journey, delivering nothing short of a spectacular & unique experience that your customers will talk about for years to come… qualifying the rush of new sales leads generated will be the only and simple task for your company sales team.