Magician for Private Parties
The great thing about performing at private events is that every single one is different. Sometimes I'm strolling amongst 100 or more people performing Close-Up Magic on a boat or in a marquee and other times I may be entertaining just a dozen people at a dinner party. My act and repertoire are totally flexible, so if it's a birthday, anniversary party or just a social occasion that you want to make memorable, I can adjust my material to make sure that it has the maximum impact on your friends and relatives of all age groups. Please feel free to contact me regarding special requirements.
It's always a great idea, if possible to keep my performance a secret from your guests, having me simply approaching people and taking them by surprise guarantees big reactions and a lively atmosphere. The Close-Up Magic which I perform is award winning in its own right and is presented in a personable way. My act includes comedy, however the jokes are very much on me and none of the humour makes fun of your guests. They will relax and enjoy the entertainment without worrying they may be embarrassed.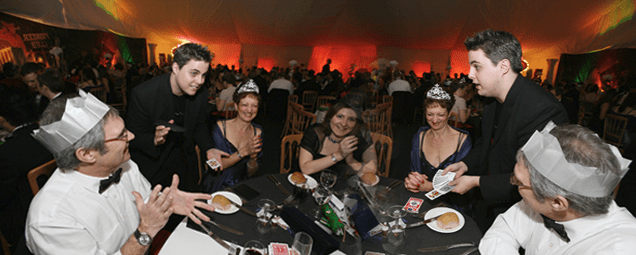 THE PERFECT WAY TO END YOUR EVENT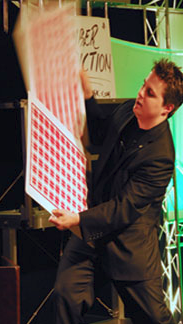 The most popular choice for my clients is for me to perform Close-Up Magic and then follow it later in the evening with a one-man 20 minute stand-up magic show. This act is performed for everyone at the same time and is suitable for an audience of up to 150 people, however, the show works just as well with an audience of ten people. It was scripted by myself and a stand-up comedian, and features magic on a grander scale which helps the show build to a spectacular conclusion.
Please mention this option when enquiring and I will provide you with more information. The stand-up show added to the close-up magic is more affordable than you may think. It really does end an evening perfectly, particularly if there is no DJ or band playing after the meal, and leaves a lasting impression on your guests, who will remember it long after the event is over.