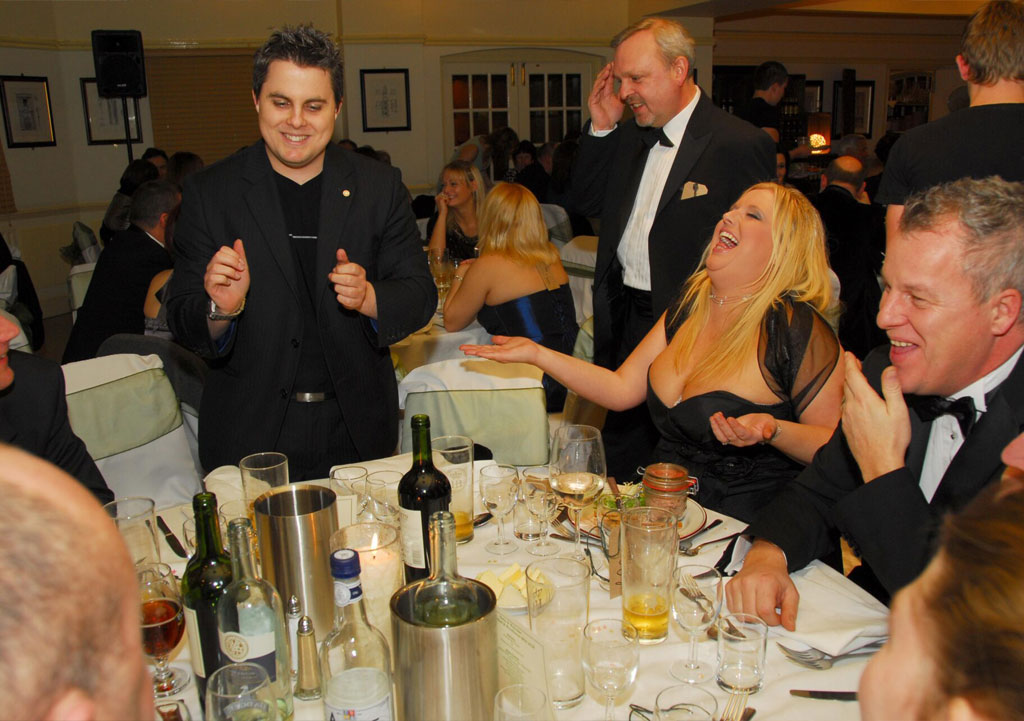 Hire a Close-up Magician for Weddings, Parties and Events
You've probably seen close-up magic on the TV. A magician pulls a rabbit from an empty hat and there's a gasp in the audience, then laughter, followed by applause. It's a great way to get people involved and chatting to each other at large and small events.
Close-up table magicians have been around since the 1800s and they usually perform at a small table on which they place props such as playing cards and coins while entertaining their audiences with sleight of hand tricks, illusions, mentalism, juggling and other feats of prestidigitation.
---
What is close-up magic and how does it work?
Today close-up magic tends to be performed on the street, or at tables where guests are waiting to dine. The objects used are likely to be £10 notes, coins, glasses or napkins – items from people's pockets, or on the table before them, all seeming perfectly ordinary until used as part of a baffling magic trick.
The magician relies heavily on sleight of hand and entertaining 'patter' to create illusions. The word 'sleight' derives from old Norse and it means dexterity and cunning; a magician works with their hands to make objects disappear, and re-appear elsewhere. The magician's 'patter' combines verbal jokes and observations that distract the onlookers from what their hands are doing.
Close-up magic for weddings, parties and corporate events
When it comes to close-up magic, few things are more entrancing than watching a skilled artist perform magic right in front of your eyes. Whether you're attending a wedding, family reunion, party or corporate event, close-up table magic is a great way to entertain your guests, and get them talking to each other. The magician you hire can perform while the guests are having dinner after a wedding ceremony, or as entertainment for colleagues at a work do while having some drinks. 
What's great about close-up magic is that it can be enjoyed by people of all ages. Young children are fascinated by the seemingly impossible tricks that magicians can perform, and adults love the sense of wonder and mystery that close-up magic brings.
What can you expect from a close-up magician's performance?
When you hire a close-up magician, you can expect a professional performance that will wow your guests and give them an experience to take away with them. Table magic is the perfect way to inject energy into a party, or cover the period of standing around whilst wedding photos are taken. A skilled close-up magician can perform a wide range of illusions, so guests will have different experiences to share with each other.
Most important, most close-up magicians will bring years' of experience as performers to your event. They're funny, charming and can adapt to whoever they're performing for. Whether it's a 9 year old or an octogenarian, they all discover the inner child in the face of consummately performed magic tricks.
---
Ready to be Amazed?
Hire your very own close-up magician to attend your event. Richard Young is an experienced close-up magician, entertainer and a member of the Magic Circle. He has appeared on ITV's The Next Great Magician, as well as on Penn & Teller: Fool Us. If you're looking for some lighthearted entertainment for your wedding, party, or corporate event, contact Richard Young today.