Professional Magician Testimonials
Below is a selection of comments from people who have hired me recently. They have all very kindly agreed to let me share their comments on this website.
Some have also agreed to provide personal references for people who are considering hiring me. If you would like to speak to one of them, please e-mail me.
"I know we spoke before you left on Saturday but I just wanted to put our huge thanks into words. The experience you provided our guests with on New Years Eve was second to none. The ooh's and ahh's were bouncing around the room and helped us to create the perfect atmosphere for our party. In the morning on the 1st as guests departed, your performance was clearly a highlight of the evening. You have been a pleasure to work with and I hope we will have the opportunity to do so again soon." – Hannah Ferguson, Le Manoir aux Quat'Saisons
"I've been dilatory in writing to thank you for the superb magic stand-up show you performed at my birthday party at Fallowfields. A bunch of adults who thought they knew better grudgingly came to believe in magic. Skill and charm together are an irresistible combination and you demonstrated both in abundance. Many thanks." – Geoffrey Finn
"We were absolutely delighted with the service you provided during our reception drinks. All of our guests commented on your tricks and to this day I know some people are still trawling the internet to find out how you did the orange trick – ourselves included! You have a wonderful talent for magic and you really did surpass our expectations by miles. Thank you very much for including so many people in such a short time, your tricks proved to be a great icebreaker that really brought our different family groups and friends together and set the tone for a fantastic evening. I highly recommend you now whenever a wedding or birthday party is mentioned!" – Rosie Fell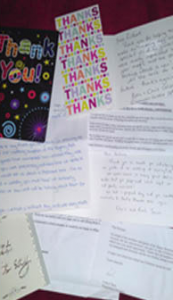 "Hi Richard, I just wanted to say a big thank you for your performance at my mum's Birthday party yesterday. You are an absolutely brilliant magician, and a great bloke too! Everyone couldn't get over how amazing and funny your magic was – and my son hasn't stopped doing magic tricks since (even on the school run this morning!). You made a great day even more special – and your after dinner show was a great extra idea, so thanks for doing that for us and being flexible with the late running of our lunch. I will be recommending you to everyone I know. Thanks again!" – Louise Salisbury
Richard Young "Thank you for your performance the other night, the table magic and show afterwards was fantastic. I have heard so many positive comments and there is no doubt you were the magical ingredient to make our annual dinner a success." – Dr Philip Shorvon
"Thank you very much for your amazing performance this afternoon. There is only one word to describe it – MAGIC! Everyone enjoyed it and everyone I spoke to later talked about you and your act. Even at the end of the evening, people were still trying to work out how you did your tricks. I was absolutely dumfounded by the card trick you did on me. A number of people also remarked on your friendly attitude, that other performers they'd seen had been rather arrogant and dismissive. You were neither of these. I would have no hesitation in recommending you to anyone else. Thank you once again for a fabulous afternoon." – Bill Whlcymro
"I just wanted to thank you for making The National Trust Christmas dinner really special for everyone who attended. My colleagues are still talking about your tricks today, even after our two week Christmas break, so you can be proud of the fact that you had a massive impact." – Sue Chapman
"Thank you very much for an amazing and fantastic evening on Friday. Everyone is still talking about you and how great the magic was (and trying to figure out how you did the tricks). I would not hesitate in recommending your services to others, my boss thanked me for organising your performance, so you really are a superstar! I will ensure that other brands within the Volkswagen Group are made aware of what you offer. If you ever need a recommendation, please do not hesitate to contact me. Best wishes and many thanks." – Bev Withers
"I have had loads of requests for your return here so I think that is a mark of your success and popularity. The Principal even came up to me to say how pleased he was I was able to hire such a great act. Therefore your success has made me look great as well. You did a wonderful job and I hope to enrole your services in the future, at Wymondham College or at other venues." – Chris Hughes
"Thanks very much for Saturday evening. Your pre-dinner performance was just perfect. It was impossible to get my family to talk about anything else for the rest of the night." – Malcolm Stewart
"Thank you for coming to my daughter Rachel's wedding last Saturday at Eynsham Hall and performing your close-up Magic. Even as the guests were leaving on Sunday morning they were still telling me about the things you had done and showing me bent coins and torn and signed playing cards. As you had said, it was a wonderful way of getting the various groups to talk to each other. It also created a lovely warm, excited atmosphere." – Janet McLoone
"On behalf of the Student Union I would like to say thank you for a brilliant performance last night, the students thought you were 'awesome'. We will definitely be hiring you again and recommending you to our other 5 campuses."
– Howard Mackay
"They LOVED it! Thank you so much. There was hilarity after you left because one chap couldn't find his lower denture and everyone seemed to believe it was another "trick". Thank goodness it wasn't and then he discovered he'd left them at home. I'm half mystified/thrilled/amused and half nervous that you are actually supernatural. You really did turn the evening into a huge success as I knew you would. Tim was completely amazed and will dine out on relating your magic feats for many months to come. He's already been on the phone to his best friend and gone through the whole 50p piece thing. The friends are coming at the weekend so no doubt the actual coin will make a guest appearance. I happen to think you were on very top form last evening too. A big, big thank you." – Fiona Pocock
Richard Young "Just a note to say very many thanks for the performance you gave at our wedding reception on Saturday night. The magic was fantastic, you were the talk of the guests, even the following morning at breakfast!" – Iain & Julia Hutchinson
"I just wanted to thank you for a brilliant show today. Everyone really enjoyed your magic and continued to talk about the Stand-Up Show long after we got home. It was really impressive and I was very impressed with your professionalism. So thank you again. I will certainly recommend you to anyone who needs a magician in the future." – Jill Armstrong
"Thank you for providing excellent entertainment for our guests at our wedding reception at the Radisson Edwardian on Saturday the 10th April. We had incredibly good feedback from everyone about your magic performance and we just wanted to say thank you for delivering exactly what you promised." – Bikram & Sabina Thiara
"I thought i'd drop you a note to say how fantastic your Close-Up Magic was. My father, who you did some tricks for, was completely blown away, and even now he tells all the folks he meets down the supermarket, about your trick with the tomatoes, which i missed. You were the hit of the night, and in my eyes, completely astonishing and baffling. Congratulations on your incredible skill, and good luck for the future." – David Parsons
"I would like to say what a fantastic job you did at the Year 11 Prom, the students where mesmerized by your tricks, not just students but adults to. Entertaining 120 sixteen year olds is no easy task but you were not fazed by them at all. I would defiantly book you again and will recommend you to family and friends. Thank you very much for a wonderful and entertaining evening." – Ayeasha Rani
"I would just like to thank you for the wonderful Close-Up Magic that you performed at my daughter and son-in-law's Wedding Reception last Saturday. I have received many, many comments from our guests on how impressed they were with the magic tricks you performed to them. Indeed, they were still talking about it today when I met some friends for lunch. The evening was a great success and I would like to thank you for being part of helping to make the wedding such a wonderful and memorable occasion. I shall definitely be recommending you to my friends and colleagues in the future." – Beverley Munro
"We have now rejoined normal life after 18 months of wedding planning and I would like to take this opportunity to say a HUGE thank-you for entertaining our guests on Saturday at The Baytree Hotel. Everyone is still talking about you and all have spent time trying to work out how you do it!!! The only regret I have is I didn't see the floating twenty pound note which stunned everyone who saw it. Many many thanks once again!" – Yvonne Gould
"We have just returned for our fabulous honeymoon and we wanted to e-mail and thank you for coming along to our wedding. We had a fantastic day and are so pleased that you were a part of it. Your magic was certainly a talking point for the rest of the day. Once again a very big thank you from both of us, I think you've also inspired one of our younger guests to become a magician." – Clare Essery
"Thank you so much for providing a Very Magical Evening, last night. Everyone absolutely loved it, and all were busy chattering over dinner – without any success, I might add – as to how you did your amazing tricks. The whole event was 100% success, and your ears must have been burning regarding the very complementary comments as to the way you handled both yourself, the geriatric bunch before you, and the performance of the magic. I had a wonderful e-mail from one of the guests this morning, who's wifes first words on waking this morning was; I wonder if this is how he did it? Thanks again!" – Jonnie Hok
"Thanks again for the fantastic entertainment you gave our guests at the Diamond Wedding Party last night. Everyone is still talking about it today, and will be for a very long time to come, I'm sure. So thanks for making it a really special evening for everyone present, but especially for Bill's parents, who thought you were amazing. Good luck to you in your future career, you deserve to go far." – Bev Hall
"Caroline and I would like to say a big thank you for your presence and entertainment at our recent wedding. We have spoken to quite a few guests and the same comments keep coming up that they were blown away and absolutely amazed at the tricks performed in front of their eyes and could not believe what they saw happening in front of them. Many guests have expressed to us that it was a great experience, especially at a wedding. When we first saw you, we booked you not only for the magic but also for your personality and the way you work the crowd, people didn't believe that someone so young had such talent. Both Caroline and I still talk about the Bride & Groom trick you did just for us and this has taken pride of place with the wedding memories. I wish I had seen the card trick you did for Caroline as she still talks about the cards moving in front of her eyes and one disappearing under her dress. Once again a huge thank you for the entertainment and fun provided it was well worth having you there not only to perform but as part of our wedding as a very special guest."
– Rod & Caroline Sarvari