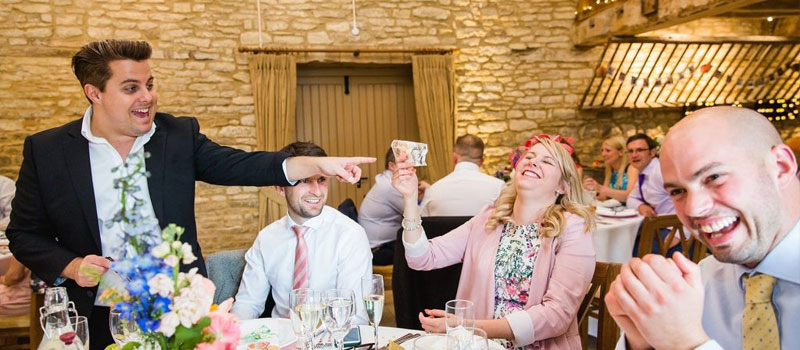 Looking for a Wedding Magician in Cheltenham?
Only the best will do for your wedding day, which is why wedding magician Richard Young is the obvious choice for your wedding entertainment. He's guaranteed to be a hit with your guests, offering them a range of magic tricks they'll remember forever. Richard is a revered member of the inner Magic Circle which means he's much in demand. He entertains at around 60 weddings annually – each event personalised to the guests he works with.
Close-Up Magic That Astonishes
Richard can entertain your guests whilst they're seated, waiting to be served at dinner, or standing with drinks as photos are being taken. Imagine the excitement of witnessing astounding close-up magic tricks. An experienced performer, Richard is as happy working with 9-year-olds as 19 or 90-year-olds. In every case he entertains, amuses, and astonishes them with magic that happens close-up, and just for them.
Richard Young has been entertaining wedding guests since 2007. He has also appeared on TV shows such as ITV's The Next Great Magician and Penn & Teller: Fool Us.
Unique Magic for Your Unique Wedding
We recommend that Richard's presence at the wedding is kept a secret; that way, guests enjoy the maximum impact from his close-up magic. Whatever your plans for your wedding day, Richard is happy to work with you to achieve your ideal. You can get him involved at any stage in the preparations, and he's always happy to adapt his performance to match the size and style of your wedding.
Hire a Wedding Magician in Cheltenham
If you like the idea of hiring an experienced magician to break the ice with your guests and provide unforgettable entertainment, contact Richard to discuss your wedding with him. He has 20 years' experience working a wedding magician around the UK, and he can provide you with a range of packages dependent on the size of your wedding, and your budget.