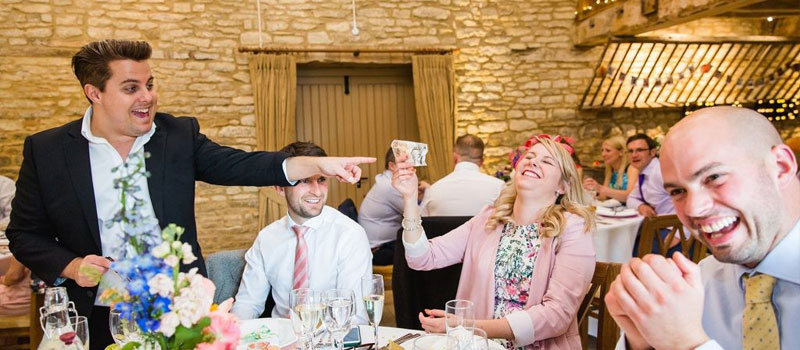 Looking for a Wedding Magician in Stratford-Upon Avon?
Your wedding is a day to remember, and magician Richard Young can help you to make it so. After all, how could your guests forget being treated to a private performance of stunning close-up magic by a member of the inner Magic Circle? Wedding magician Richard Young performs around 60 times a year at weddings, and each event is personalised to the guests he's creating magic for.
Astonishing Close-Up Magic
There are two excellent opportunities for a wedding magician to provide entertainment at your celebration. Either at the welcome reception, or as guests are seated for the wedding breakfast. Richard mingles with guests, surprising them with performing the impossible right before their eyes. Close-up magic features illusions using glasses, napkins, or bank notes. Your wedding guests will be entertained, astounded, and amused, by magic that happens right in front of them.
Richard Young has been entertaining wedding guests since 2007. He has also appeared on TV shows such as ITV's The Next Great Magician and Penn & Teller: Fool Us. 
Unique Magic Tailored to Your Wedding
We always advise that Richard's presence at the wedding is kept a secret from guests. He's found that the biggest reactions come when people don't expect to be encountering magic at the event. As an experienced performer, Richard will adapt his performance to the size of the wedding you're organising, and to the kind of atmosphere you want for it. He's always happy to talk through your ideas and suggestions.
"You have a wonderful talent for magic, and you really did surpass our expectations by miles. Thank you very much for including so many people in such a short time, your tricks proved to be a great icebreaker that really brought our different family groups and friends together and set the tone for a fantastic evening."
– Rosie Fell
Hire a Wedding Magician in Stratford-Upon-Avon
If you want a wedding performer who'll break the ice and add to your guests' memories of the special day, contact Richard Young to talk through your wedding plans. He can guarantee the kind of top-quality entertainment you would expect from a professional magician. With over two decade's experience of performing at private events and weddings, Richard has a range of packages to suit every kind of wedding, and every kind of budget.