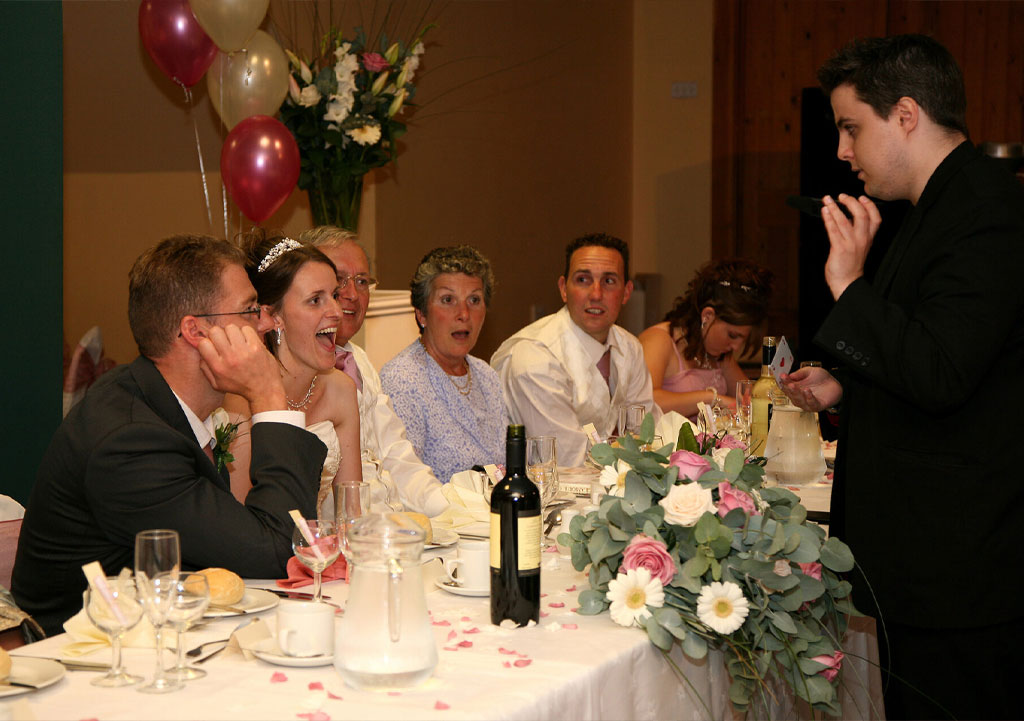 What is a Close-up Table Magician?
A close-up table magician performs tricks inches away from the audience, and creates before their eyes a world of tricks and illusions. This involves expert use of slight-of-hand techniques, so no matter how closely the spectator watches, they'll be astounded by the magic happening right in front of them.
Richard Young has been performing close-up magic for two decades now, and is a renowned member of The Magic Circle. You can hire him to perform at your wedding, corporate event or party!
---
Close-up Magic for Your Event
Hiring a close-up table magician can make your next party or event a memorable experience that people still talk about long after the event. Table magic is all about bewildering guests and getting them to question the evidence of their own eyes. Richard Young is a professional magician with over 20 years experience of providing close-up magic for events. In his opinion the best experiences happen when people aren't expecting them. Having someone approach you out of the blue and make a £10 note with your signature on it disappear, and then re-appear in the middle of a lemon is something quite special – you've experienced the impossible.
There's a lot of laughter involved in event magic. Partly this is down to the magician's 'patter' which is personalised to the group he's working with. It's also, though, a reaction to something that you can't explain. For that moment, when something impossible happens right in front of you, adults let down their guard and become like kids – filled with wonder. It's a great ice-breaker in groups that don't know each other very well!
Does Table Magic Work for any Kind of Event?
Table magic uses ordinary objects for the tricks; bottles, napkins, coins, balls. This makes it very adaptable to different kinds of settings and events. A weddings, for example, it's perfect for those 'standing around' or 'sitting around' bits when photos are being taken, or the dinner is being served. And it can be adapted to suit different age groups; when Richard works a room he has the experience to be able to adapt his presentation. One of the pieces of feedback he receives again and again is that he's adept at engaging with everyone whether they're 9 or 90.
FAQs About Hiring a Close-up Table Magician
Hiring a close-up magician for your next party or event can be a lot of fun, but it can also be a little confusing if you don't know what to expect. So here are some frequently asked questions Richard regularly receives from clients looking for a table magician:
HOW MUCH DOES IT COST?
The cost of hiring a magician will vary, but it all depends on a number of factors such as how long you will need the magician at your event, and the number of guests you have. If you call Richard, he'll find a way to adapt his work to the budget you have.
HOW LONG WILL YOU BE AT MY EVENT?
This all depends on the type of event and amount of guests. If it's a drinks reception or party, a close up magician may be able to interact with around 40 people an hour. This can be sightly harder to gauge if it's performing magic at tables during a meal. In most situations 10 tables takes Richard around two hours.
HOW DO I KNOW HOW GOOD YOU ARE?
As a professional magician Richard has spent 20 years performing close-up magic at a variety of shows and events, and the love of what he does shines through in his performances. He has appeared on TV, on shows such as Penn & Teller: Fool Us, and ITV'S The Next Great Magician. He is also a gold star member of The Magic Circle (highest designation), and headlines an internationally touring theatre show Champions of Magic.
---
Want to add a Touch of Magic to Your Next Gathering?
Why not consider Richard Young, a close-up table magician for hire. He is an amazing entertainer, and experienced in the art of illusion magic. If you want to amaze your guests with an experience they will remember for a long time after the event, contact him today.