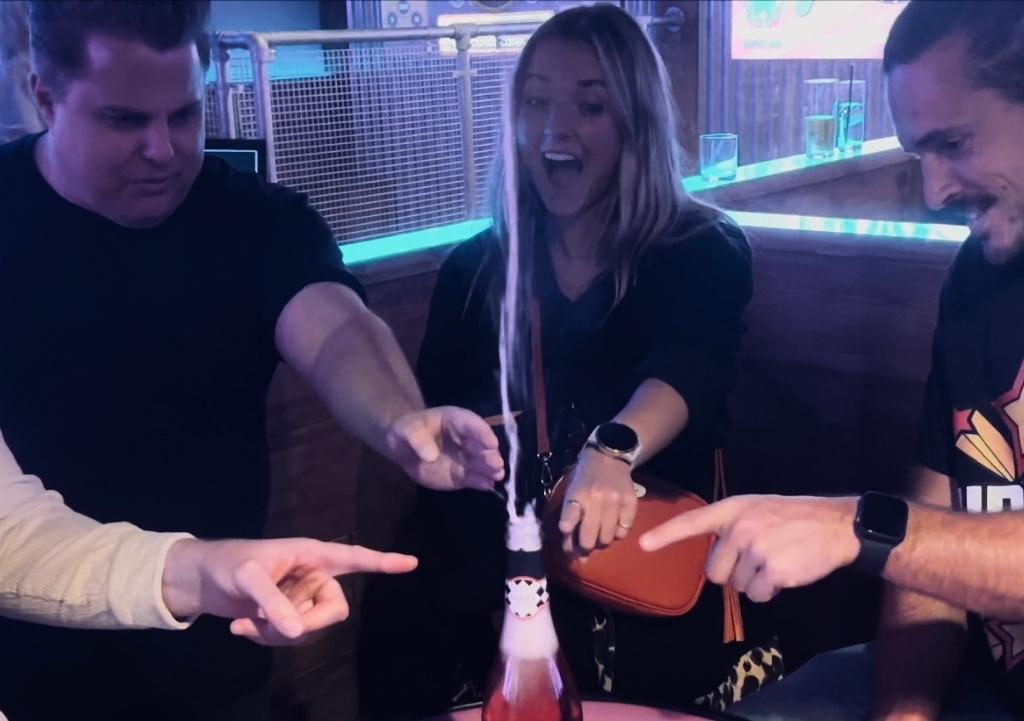 Exploding Champagne at the Launch of Bath's Newest Venue
As a professional magician I've performed in a huge variety of clubs, bars, hotels, and event venues, but I wasn't quite sure what to expect from Bath's newest venue. It's an innovative interactive sports entertainment bar that doesn't just do drinks and food. They also offer crazy golf, table tennis, augmented reality darts, beer pong – and axe throwing! I was at the launch party to provide a touch of magic at the Boom Battle Bar in Bath.
---
Magic for VIPs & Influencers
The bar invited a small group of celebrities, VIPs, and social media influencers to their launch party. My role was to mingle with the guests and perform my signature blend of close-up magic and mind reading for them.
I'm always keen to offer something special when I'm working a launch event, so I thought that an exploding bottle of champagne was a fitting way to get the Boom Battle Bar party started.
I gathered a few guests together, including the Instagram influencer, Amy Cousins, and got them all to focus their telekinetic energy on the bottle in the centre the table. Watch the video to find out what happened next.
---
Are You Looking to Hire a Magician?
I'm a member of the Inner Magic Circle, with 20 years' experience of performing at parties, corporate events, and business launches. My specialism is close-up magic that is designed to amaze guests, break the ice, and get people who don't know each other laughing and talking to each other.
As you can see from my choice of magic at the Boom Battle Bar in Bath, I always personalise the performance I offer, so you know you'll get a unique, and totally memorable experience from my magic.
---
Would you like to book Richard Young Magician for your business launch, party, or event? Message, call or email him today for a quick chat, and a quote.