What to Expect from a Table Magician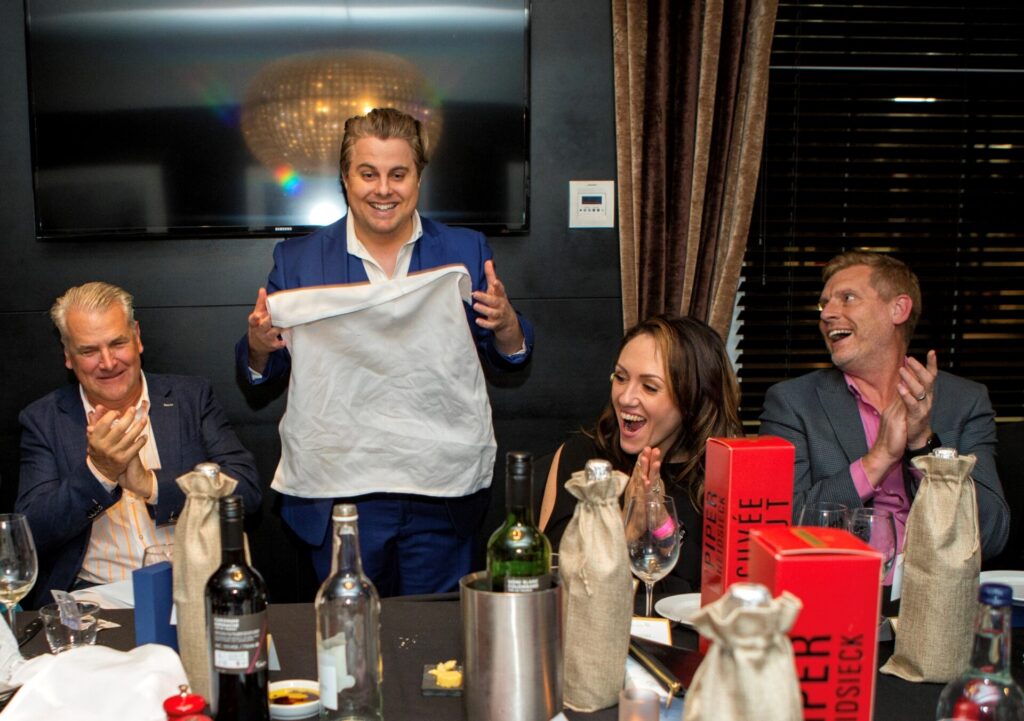 Table magicians are in high demand right now. The sleight of hand illusions which they specialise in are the perfect way to bewilder and entertain guests at a wedding, corporate clients at a company event, or employees looking for something 'different' at the annual Christmas party. In this article we answer the question 'what is a table magician?'.
---
What is a Table Magician?
Imagine your guests are seated for dinner at your event. A table magician will approach each table, either as they're waiting to be served, or between courses, and perform a series of close-up magic tricks for the guests. It's like having a private performance as each table will have a different experience.
Using everyday objects such as glasses, fruit, and napkins, a table magician will appear to defy logic by making objects disappear, and then reappear in the most unlikely places. And the guests are part of the performance; objects from wrists or handbags become the focus of astounding magic tricks which everyone can enjoy in the moment.
Watch Richard Young at work as a table magician.
What Makes a Great Table Magician?
Performing close-up magic is a skill that is often acquired at a young age, and then practised for many years before being perfected. A table magician also needs to be able to create an instant rapport with people and provide entertainment alongside the magic. Illusions are far more than just tricks; they're an experience you take part in.
Richard Young has been performing table magic for the past two decades. "When you're playing to new people every day, you learn how to make a connection", he says, "because your audience needs to trust that you have the skills to amaze them, then they'll relax and enjoy the experience I'm giving them."
A Table Magician Helps to Make Your Event Perfect
A table magician requires no special lighting, or setup. It's extremely flexible as an entertainment, and the close-up magic works equally well whether guests are seated at a table or standing with drinks. The best responses tend to occur when guests aren't expecting to encounter a magician, and suddenly find themselves being treated to amazing illusions, close up.
"We found Richard online and were really impressed not only with the videos on his website but also the speed and professionalism of his response to our enquiry, unlike other magicians he didn't just give us one price, he gave us multiple options for our wedding allowing us to choose when was right to bring him in for our guests. His performance on the day went down an absolute storm with all of the guests. My husband is Iranian, and Richard had no problem entertaining his family with his visual magic despite the language barrier."
– Jessica Lloyd
The clients we work with tend to describe Richard Young as 'as safe pair of hands'. He's always happy to adapt to the event he's performing at, and his ability to create an instant rapport is an excellent way to 'break the ice' or create talking points for guests of different ages.
---
About Richard Young
Richard decided that he was going to be a professional magician at the age of 11, and he's been earning his living by performing outstanding illusions since 2007. He's one of only 300 magicians worldwide to have been awarded Member of the Inner Magic Circle With Gold Star and has been booked to perform on numerous TV shows.
---
If you would like to book Richard Young for your event, just give us a call on 07944 484791, or message us and we'll get back to you promptly. Richard offers a range of packages to suit every size of budget.